Everyone needs a good laugh from time to time. I so much love comedy movies because it calm my mind and you know, the more you laugh the more you live. Comedy movies are a perfect source of relaxation and enjoyment. And more importantly comedy movies have the capabilities to bring back smile on to any gloomy faces.
Best Comedy Movies Ever
If you love to laugh then you are in the right place. Keep watching these movies and keep laughing human.
1. Baby's Day Out (1994)
Plot: Bennington Austin "Bink" Cotwell IV has adoring parents Laraine (Lara Flynn Boyle) and Bennington (Matthew Glave), lives in a huge mansion in a suburb of Chicago, and is just about to appear in the social pages of the newspaper. Three klutzy would-be kidnappers: Edgar "Eddie" Mauser (Joe Mantegna), Norbert "Norby" LeBlaw (Joe Pantoliano), and Victor "Veeko" Riley (Brian Haley), the main antagonists, disguise themselves as the photographers from the paper and kidnap him. After the kidnapping, they have difficulty controlling him. In the trial of trying to get him to fall asleep, Norby does so reading Bink's book, leaving him unattended. Norby later goes to sleep himself. Looking through it, he notices a bird on the page and then by the window. He follows it out and successfully gets away from his kidnappers, with Eddie falling off the building and into a garbage bin.
2. Silver Linings Playbook (2012)
Plot: After eight months of treatment in a mental health facility for bipolar disorder, Patrizio "Pat" Solitano, Jr. (Bradley Cooper) is released into the care of his father Patrizio, Sr. (Robert De Niro) and mother Dolores (Jacki Weaver). His main focus is to reconcile with his ex wife, Nikki (Brea Bee). She has moved away and obtained a restraining order against him after Pat had found her in the shower with another man and nearly beat him to death. During his time in the clinic Pat befriends Danny McDaniels (Chris Tucker), an easygoing man who is embroiled in a legal dispute with the clinic on whether or not he is eligible to leave. Pat's therapist, Dr. Patel (Anupam Kher), does his best to convince him to keep taking his medication, as a repeat of his violent outbursts might send him back to the clinic. But Pat tells him that he has a new outlook on life: he attempts to see the good, or silver linings, in all that he experiences.
3. Rush Hour (1998)
Plot: On the last day of British rule in Hong Kong late 1997, Detective Inspector Lee of the Hong Kong Police Force leads a raid at a shipping bar wharf, hoping to arrest the mysterious crime lord Juntao. He finds only Sang, Juntao's right-hand man, who manages to escape. However, Lee successfully recovers numerous Chinese cultural treasures stolen by Juntao, which he presents as a farewell victory to his departing superiors: Chinese Consul Solon Han and British Commander Thomas Griffin.
4. The Grand Budapest Hotel (2014)
Plot: In the present day, a teenage girl approaches a statue in a courtyard. In her arms is a memoir by "The Author." She begins reading about a trip he made to the Grand Budapest Hotel in the late 1960s. He discovered that the nearly deserted hotel, located in the Republic of Zubrowka, a nation ravaged by war and poverty, had fallen on hard times and become dilapidated.
5. The Hangover (2009)
Plot: To celebrate his upcoming marriage to Tracy Garner, Doug Billings travels to Las Vegas with his best friends Phil Wenneck, Stuart "Stu" Price, and Tracy's brother Alan, in Doug's future father-in-law Sid's vintage Mercedes-Benz W111. They spend the night at Caesars Palace, where they relax in their hotel suite before celebrating with a few drinks on the hotel rooftop. The next morning, Phil, Stu, and Alan awaken to find they have no memory of the previous night, and Doug is nowhere to be found. Stu's tooth is in Alan's pocket, their suite is in a state of complete disarray, a tiger is in their bathroom, a chicken is in their living room, and a baby is in the closet, whom Alan names "Carlos". They see Doug's mattress impaled on a statue outside of Caesars Palace and when they ask for their Mercedes, the valet delivers an LVPD police cruiser.
6. Home Alone (1990)
Plot: The McCallister family is preparing to spend Christmas in Paris, gathering at Peter and Kate's home outside of Chicago on the night before their departure. Peter and Kate's youngest son, eight-year-old Kevin, is being ridiculed by his siblings and cousins. A fight with his older brother, Buzz, results in Kevin getting sent to the third floor of the house for punishment, where he wishes that his family would disappear. During the night, heavy winds cause damage to power lines, which causes a temporary power outage and resets the alarm clocks, causing the entire family to oversleep. In the confusion and rush to get to the airport, Kevin is accidentally left behind.
7. The Hitman's Bodyguard (2017)
Plot: Private European Union based bodyguard Michael Bryce is hired to protect Takashi Kurosawa, a Japanese arms dealer. All apparently goes well, until Kurosawa is shot in the head through the airplane window. Two years later, Bryce has fallen into disgrace and ekes out a living protecting drug-addicted corporate executives in London. Meanwhile, Vladislav Dukhovich, the ruthless and bloodthirsty dictator of Belarus, is put on trial for crimes against humanity at the International Criminal Court. The prosecution is unable to make headway against him, as they are unable to substantiate their allegations with physical evidence and Dukhovich assassinates any witnesses who could do so. The prosecution's last hope is notorious incarcerated hitman Darius Kincaid, who agrees to testify against Dukhovich in exchange for releasing his wife Sonia from prison.
8. Blended (2014)
Plot: Divorcee Lauren Reynolds goes on a blind date with widower Jim Friedman at Hooters; it goes badly. Lauren talks at work to her friend Jen about the experience. Jim discusses his date with his co-worker. They both agree in the separate discussions that things could have gone better. Lauren and Jim run into each other while on errands to the pharmacy to get a personal item for one of their own children. They attempt to avoid embarrassment by these purchases and switch between themselves. Jim attempts to sort out the mess by going over to Lauren's to exchange. Jen is at Lauren's and has broken up with her boyfriend Dick (Dan Patrick), Jim's boss, although they had already paid for a trip to Africa. Lauren committed to using Jen's portion of the holiday without knowing that Jim intended using Dick's. Also, the hotel accommodation for Jen and Dick was a romantic suite.
9. The Mask (1994)
Plot: Stanley Ipkiss is a shy and unlucky bank clerk working at the local Edge City bank. He is frequently ridiculed by everyone around him, except for his Jack Russell Terrier Milo, and his co-worker and best friend Charlie Schumaker. Meanwhile, gangster Dorian Tyrell, owner of the Coco Bongo nightclub, plots to overthrow his boss Niko. One day, Tyrell sends his singer girlfriend Tina Carlyle into Stanley's bank to record its layout, in preparation to rob the bank.
10. We're the Millers (2013)
Plot: A small-time cannabis dealer named David Clark, who lives in Denver, CO, is robbed of his money and weed stash; some of which he owes to his wealthy drug lord supplier Brad Gurdlinger. After David is brought to him, Gurdlinger forces David to smuggle a "smidge" of marijuana from Mexico as a solution to clear his debt. Realizing that one man attempting to get through customs is too suspicious, he hires his stripper neighbor stage-named Rose, a teenage runaway and petty thief named Casey, and his eighteen-year-old neighbor Kenny, to pose as a bogus family called "the Millers." When the Millers reach the compound, they find out that the amount of marijuana they were picking up is not "a smidge" but actually two tons. Because of the extra load of the marijuana on the RV that they are driving, one of the radiator hoses breaks while going up a steep incline. A family they had met at the border, the Fitzgeralds, consisting of Don, Edith, and their teenage daughter Melissa, catch up to them and tow the Millers' RV to a garage. En route to the garage, David learns that Don Fitzgerald is a DEA agent after finding his badge and gun in the glove compartment.
11. The Boss Baby (2017)
Plot: A man named Tim Templeton tells a story about his 7-year-old self and his parents, Ted and Janice. One day, Tim is surprised when an infant wearing a business suit arrives at his house in a taxi, and Ted and Janice call him Tim's little brother. Tim is envious of the attention the baby receives, not to mention suspicious when the infant acts odd around him.
12. Ri¢hie Ri¢h (1994)
Plot: Richard "Richie" Rich Jr. (Macaulay Culkin) is the world's wealthiest kid, the son of billionaire businessman and philanthropist Richard Rich, Sr. (Edward Herrmann). Richie has only his loyal butler Herbert Cadbury (Jonathan Hyde) as a companion, and lacks any friends his own age. At a dedication to the reopening of United Tool, a factory Richard recently acquired (intending to modernize the factory and give it away to the workers as a token of goodwill) Richie encounters a group of sandlot kids playing baseball. Unfortunately, before he is able to talk to them, the overly-strict head of security, Ferguson (Chelcie Ross), stops Richie and sharply pulls him away. Cadbury, ever the "third parent", reprimands Ferguson for his excessively-physical treatment of Richie.
13. Hotel Transylvania 2 (2015)
Plot: Seven years after the first film,[10] Mavis and her new fiancé Johnny are finally married, with the approval of her father Dracula, and the world becomes aware of (and unfazed by) the existence of monsters. A year later, Mavis reveals to Dracula that she is pregnant and gives birth to a baby boy named Dennis, who later befriends Wayne the Werewolf's daughter Winnie. Nearing his fifth birthday, Dennis has yet to grow his fangs and Dracula worries that his grandson might not gain vampire powers. Noticing the dangers of Transylvania, Mavis starts to consider raising Dennis in California where Johnny grew up, much to Dracula's disapproval.
14. The Other Woman (2014)
Plot: Carly Whitten (Cameron Diaz), a New York attorney, has just started a relationship with Mark King (Nikolaj Coster-Waldau), a man she had sex with eight weeks earlier. Carly, planning to introduce Mark to her father, Frank (Don Johnson), is upset that Mark has to go out of town on account of a flood at his Connecticut home, missing their dinner. However, she decides to go over to his house to seduce him instead. She is horrified to meet Mark's wife, Kate (Leslie Mann), whom she'd originally assumed to be Mark's housekeeper. While initially hostile, both of the women befriend each other. Kate then discovers that he is still seeing another woman, who she thinks is Carly who is secretly continuing her previous relationship with Mark. After another fight, they discover together that Mark is seeing a third woman: Amber (Kate Upton).
15. Goosebumps (2015)
Plot: After his father's recent death, Zach Cooper (Dylan Minnette) and his mother Gale (Amy Ryan) move from New York City to the peaceful town of Madison, Delaware. While settling in the new neighborhood, Zach befriends his neighbor Hannah (Odeya Rush) until her overprotective father (Jack Black) warns him to avoid contact with them. The next morning, at Madison High School, where Gale works as vice-principal, Zach befriends Champ (Ryan Lee), a shy and clumsy student. That night, Hannah invites Zach to an abandoned amusement park but when they return home, Hannah's father warns again that Zach stays away or something bad will happen.
16. 21 Jump Street (2012)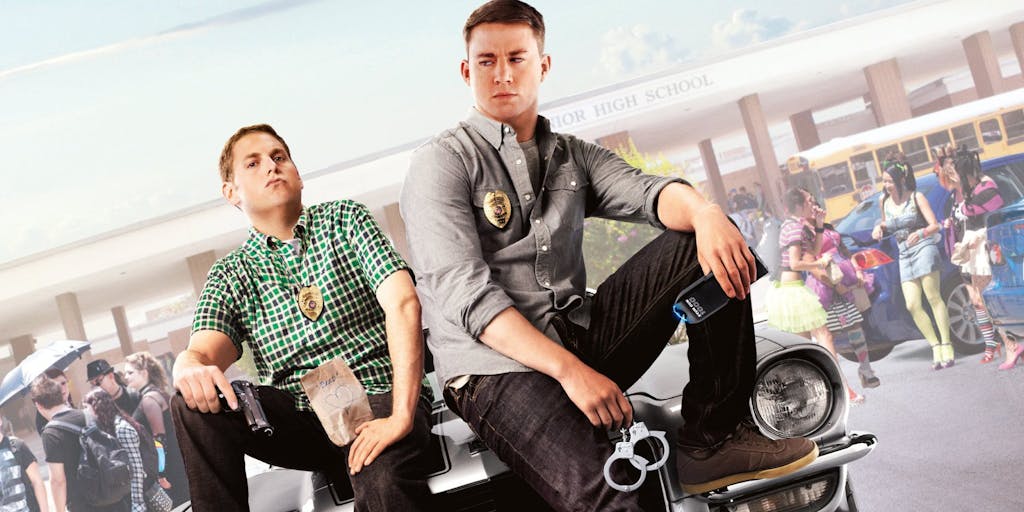 Plot: In 2005, scholarly student Morton Schmidt (Jonah Hill) and popular underachieving jock Greg Jenko (Channing Tatum) miss their school prom; Schmidt being rejected by the girl he asked to be his date and Jenko being barred from attending because of his grades. Seven years later, the duo meets again at the Police Academy and become friends and partners on bicycle patrol. They catch a break when they arrest Domingo (DeRay Davis), the leader of a one-percenter motorcycle gang, but are forced to release him after they failed to read him his Miranda rights.
17. Due Date (2010)
Plot: Peter Highman (Robert Downey Jr.), a successful architect, is due to fly home from Atlanta to Los Angeles to be with his wife Sarah (Michelle Monaghan), who is about to give birth. On the way to the airport, he has a chance encounter with Ethan Tremblay (Zach Galifianakis), who is going to LA to be an actor and is planning to scatter his recently deceased father's ashes at the Grand Canyon. When Ethan misuses the words "terrorist" and "bomb" while talking to Peter, they are both escorted off the plane. This is only the first of a series of misadventures caused by the drastically dysfunctional Ethan. Peter, now on the No Fly List and missing his wallet, agrees to drive with Ethan to Los Angeles.
18. Sex Tape (2014)
Plot: Jay and Annie Hargrove are a married couple, who, after having two kids, have sex at every opportunity. After Jay struggles to get an erection, Annie suggests making a sex tape. They film themselves having sex in every position listed in The Joy of Sex. When done, Annie asks Jay to delete the recording, which they hate, but he ends up instead inadvertently synchronizing the video to several iPads the couple had given away over time. After failing to get it out of the cloud, they set out to get back all of the gifted iPads, leading to a series of awkward encounters and close calls.
19. Why Him? (2016)
Plot: Stanford student Stephanie Fleming invites her boyfriend Laird Mayhew over to "Netflix and chill". Meanwhile, back home in Grand Rapids, Stephanie's dad Ned is celebrating his 55th birthday with friends and family at an Applebee's restaurant. During a slideshow presentation in his honor, Stephanie drops in via webcam to congratulate him, when suddenly her boyfriend walks in on her and flashes the camera.
20. Keeping Up with the Joneses (2016)
Plot: Jeff Gaffney (Zach Galifianakis) works as a Human Resources professional at a Defense contractor company called MBI, based in Atlanta. He and his wife Karen (Isla Fisher) live in a nice cul-de-sac with their two children, who are away at summer camp. They make the acquaintance of their two new neighbors, Tim (Jon Hamm) and Natalie Jones (Gal Gadot). Tim is a travel writer whose hobbies include glassblowing, and Natalie is a social media consultant, cooking blogger and philanthropist. They are both impossibly good-looking, accomplished and stylish, yet overly friendly with the Gaffneys.
21. She's the Man (2006)
Plot: Viola Hastings (Amanda Bynes) is a teen girl who plays for Cornwall College's soccer team until the team gets cut. Meanwhile, her twin brother, Sebastian (James Kirk), is supposed to enroll in Illyria, an elite boarding school, but he secretly goes to London with his fledgling band instead. Viola agrees to cover for him and decides to pass herself off as Sebastian, in hopes of joining their boys' team and beating Cornwall to prove their coach and her cocky ex-boyfriend, Justin (Robert Hoffman), wrong. With the help of her stylist friend, Paul (Jonathan Sadowski), she is transformed into "Sebastian" and attends Illyria in his place.
22. You Don't Mess with the Zohan (2008)
Plot: Zohan Dvir (Adam Sandler) is a superhuman Israeli counter-terrorist, but a barbecue he hosts is interrupted by the IDF sending him to stop a Palestinian terrorist group led by his personal arch-enemy, Fatoush "Phantom" Hakbarah (John Turturro), another superhuman. Seeing it as a long-awaited chance, he fakes his own death during the pursuit and smuggles himself onto a plane to New York City, cuts his hair, and adopts the alias "Scrappy Coco".
23. The Angry Birds Movie (2016)
Plot: A reclusive, temperamental bird named Red lives in a village on Bird Island with other flightless birds. When his temper causes a "premature hatching" of another bird's egg, he is sentenced to take an anger management class. Red's classmates – Chuck (who is hyperactive and can move at the speed of light) and Bomb (who can cause explosions with his anger and fear) – try to befriend him, but he avoids them.
24. Daddy's Home (2015)
Plot: Mild-mannered radio executive Brad Whitaker struggles to be a good stepfather to his wife Sara's two children, Megan and Dylan, and is seemingly sterile after an accident to his testicles some years ago. The children begin to grow closer to Brad, with Dylan confiding in him that he is being picked on at school and Megan asking him to take her to a father/daughter dance at her school. One night, the kids' biological father, Sara's ex-husband Dusty Mayron, calls and discovers Sara's marriage with Brad. He suddenly announces he will be visiting the next day. Sara hesitates to let her ex-husband into their home, but Brad convinces her that it is important for the kids that their father and stepfather establish a respectful relationship.
25. Alexander and the Terrible, Horrible, No Good, Very Bad Day (2014)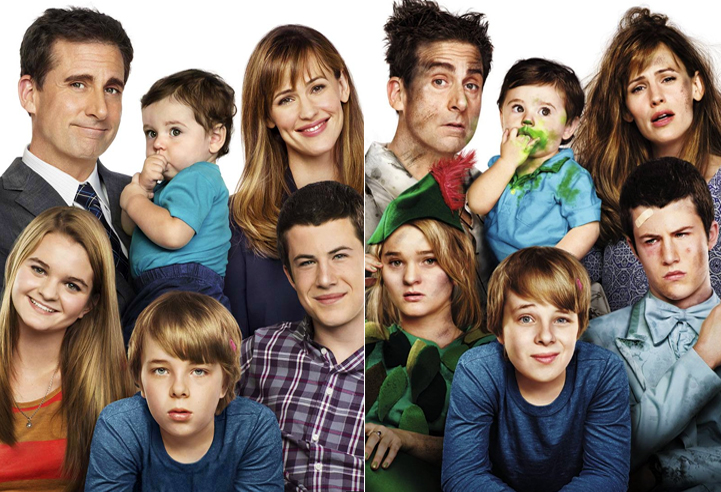 Plot: The film follows the exploits of Alexander Cooper (Ed Oxenbould), an ordinary 12-year-old boy, and his "terrible, horrible, no good, very bad day." He is left out by his family; his older brother, Anthony (Dylan Minnette), his older sister, Emily (Kerris Dorsey), his mother, Kelly (Jennifer Garner), his father, Ben (Steve Carell), and his baby brother, Trevor (Elise/Zoey Vargas), living in the Los Angeles metropolitan area of California.
26. Think Like a Man (2012)
Plot: The film follows four storylines about each of the couples, titled:
"The Mama's Boy" vs. "The Single Mom"
"The Non-Committer" vs. "The Girl Who Wants the Ring"
"The Dreamer" vs. "The Woman Who Is Her Own Man"
"The Player" vs. "The 90 Day Rule Girl"
Each of the women are readers of Steve Harvey's book Act Like a Lady, Think Like a Man. When the men learn that the women are hooked on Harvey's advice, they try to turn the tables on their mates, which later seems to backfire.
27. The Heat (2013)
Plot: FBI agent Sarah Ashburn (Sandra Bullock) is an expert and effective investigator in New York City, but is despised by allied agents for her egotistical and vicious personality. When her manager assigns her to a mission in Boston, she meets detective Shannon Mullins (Melissa McCarthy), a skilled but loudmouth, bloodthirsty, sadistic, hot headed, dirty cop who is part of the Boston Police Department. Ashburn's ruthless philosophy clashes with Mullin's nefarious style of law work, proved during their attempt to interrogate local drug dealer Rojas (Spoken Reasons) who was captured by Mullins. Under pressure from her employer Hale (Demián Bichir), Ashburn reluctantly agrees to work with Mullins.
28. Grown Ups (2010)
Plot: In 1978, five childhood friends win their junior high school basketball championship. Afterwards, they celebrate at a rented lake house. The friends' coach, Robert Ferdinando, whom they nickname "Buzzer", encourages them to live their lives in a similar way to how they played the game. Thirty years later, Lenny has become an ambitious Hollywood talent agent with his wife, fashion designer Roxanne, and his three children—daughter Becky and two sons Greg and Keith. The boys act like divas in his mansion, much to his chagrin. Eric claims that he is now a co-owner of a lawn furniture company, and is also disappointed in his wife Sally for continuing to breastfeed Bean, one of his two children, the other being Donna. Kurt is a stay-at-home father with two children, Andre and Charlotte. His wife Deanne, the primary breadwinner of the family, is pregnant with another child and shares the house with her mother Ronzoni. Rob, nicknamed Carrot, has been divorced three times, and holds custody of his daughters Jasmine, Amber, and Bridget. His current wife, Gloria, is thirty years his senior. Marcus is a slacker and lothario. All five friends regularly harass each other in comedic fashion: Lenny for being wealthy, Eric for being overweight, Kurt for being henpecked, Rob for his continuous use of the joke "Maize!" and for having a much older wife, and Marcus for being sexually juvenile.
29. Ted (2012)
Plot: In 1985, eight-year-old John Bennett is an only child living in Norwood, Massachusetts, a suburb of Boston, who wished for his new Christmas gift, a jumbo teddy bear named Ted, to come to life and become his friend. The wish coincides with a shooting star and comes true; word spread and Ted was briefly a celebrity.
30. American Reunion (2012)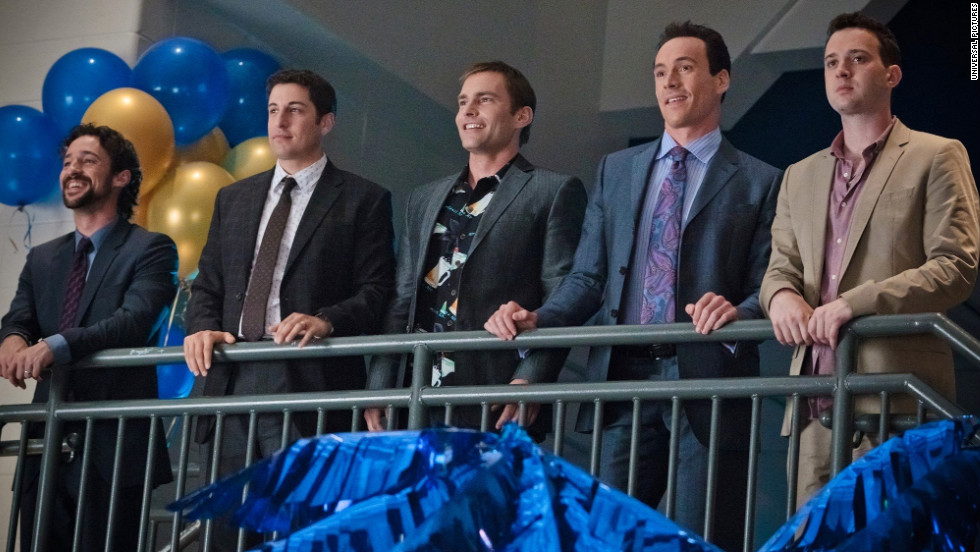 Plot: Thirteen years after graduating from high school, Jim Levenstein (Jason Biggs), Chris "Oz" Ostreicher (Chris Klein), Kevin Myers (Thomas Ian Nicholas), Paul Finch (Eddie Kaye Thomas), and Steve Stifler (Seann William Scott) are well-established in their lives and careers. Jim lives in the Chicago area and remains married to Michelle (Alyson Hannigan) and now has a two-year-old son, Evan. Since the birth of their son, Jim and Michelle's sex life has deteriorated. Oz is an NFL sportscaster living in Los Angeles with his supermodel girlfriend Mia (Katrina Bowden). Kevin is married to Ellie and works from home as an architect. Finch tells his friends that he has been travelling the world, and still searching for his one true love. Stifler works as a temp at an investment firm, where he is the victim of humiliating verbal abuse by his cold-hearted employer.
31. Rio (2011)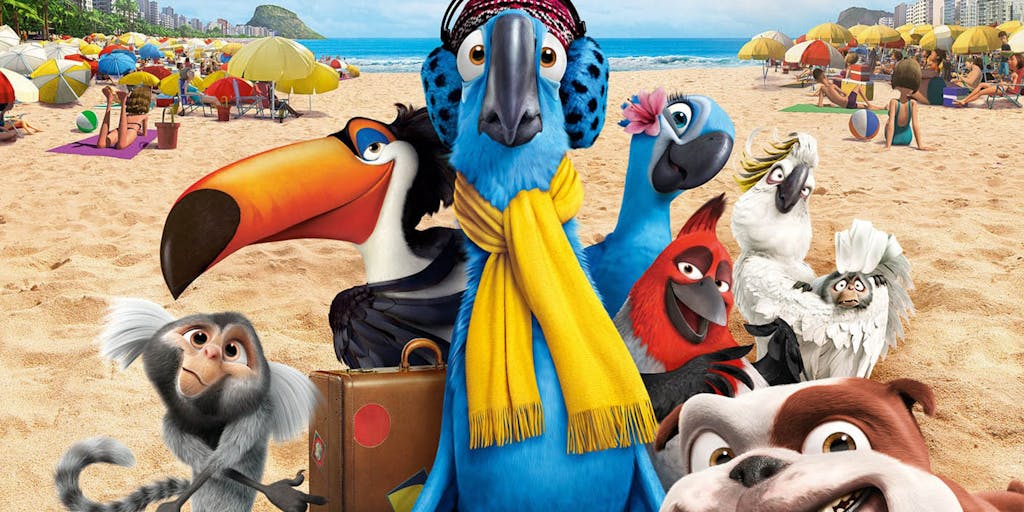 Plot: In Brazil, various exotic birds are smuggled out of the country. In Moose Lake, Minnesota, a crate with a male Spix's macaw hatchling falls out of a truck and is found by a little girl named Linda Gunderson, who names him Blu. Over the next 15 years,[7] Linda comes to own a bookstore. Highly domesticated and unable to fly because he is scared to, Blu is ridiculed frequently by the Canada geese that come by outside of Linda's bookstore.
32. Scott Pilgrim vs. the World (2010)
Plot: In Toronto, 23-year-old Scott Pilgrim is a bassist in Sex Bob-Omb, a floundering garage band. To the disapproval of his friends, he is dating Knives Chau, a 17-year-old high-school student. Scott meets an American Amazon delivery girl, Ramona Flowers, having first seen her in a dream, and loses interest in Knives, but doesn't break up with her before pursuing Ramona. When Sex Bob-Omb plays in a battle of the bands sponsored by record executive G-Man Graves, Scott is attacked by Ramona's ex-boyfriend Matthew Patel. Scott defeats Patel and learns that, in order to date Ramona, he must defeat the remaining six evil exes.
33. Kick-Ass (2010)
Plot: Dave Lizewski is an ordinary teenager who lives in Staten Island, New York. Inspired by comic books, Dave plans to become a real-life superhero. He purchases and modifies a scuba diving suit, and arms himself with batons. During his first outing, he gets stabbed and then hit by a car. After recovering, he gains a capacity to endure pain and enhanced durability due to having some bones replaced with metal.
34. Despicable Me (2010)
Plot: A supervillain named Gru has his pride injured when an unknown villain steals the Great Pyramid of Giza. With the assistance of his sidekick Dr. Nefario and his Minions, Gru resolves to one-up his mysterious rival by shrinking and stealing the Moon. Knowing this is extremely costly, Gru seeks a loan from the Bank of Evil. Mr. Perkins – the bank president – is impressed by the plan, but he will approve the loan only if Gru can obtain the necessary shrink ray first. Upon learning that an up-and-coming villain known as Vector was responsible for the Pyramid theft, Gru starts a rivalry with him.
35. Harold & Kumar Go to White Castle (2004)
Plot: Investment banker Harold Lee is persuaded by his colleagues to do their work while they leave for the weekend. Meanwhile, Kumar Patel attends a medical school interview, but intentionally botches it to prevent getting accepted. Harold is attracted to his neighbor, Maria, but is unable to admit his feelings. After smoking marijuana with Kumar, and seeing an advertisement for White Castle, the pair decide to get hamburgers to satisfy their hunger. After traveling to the nearest White Castle in New Brunswick, they find it replaced by "Burger Shack" but learn of another White Castle in Cherry Hill.
36. Mr. Bean's Holiday (2007)
Plot: During a rainy day in London, Mr. Bean drives to a church fete where the wins the first prize – A holiday in Cannes, a Sony Handycam video camera and €200.
37. Neighbors (2014)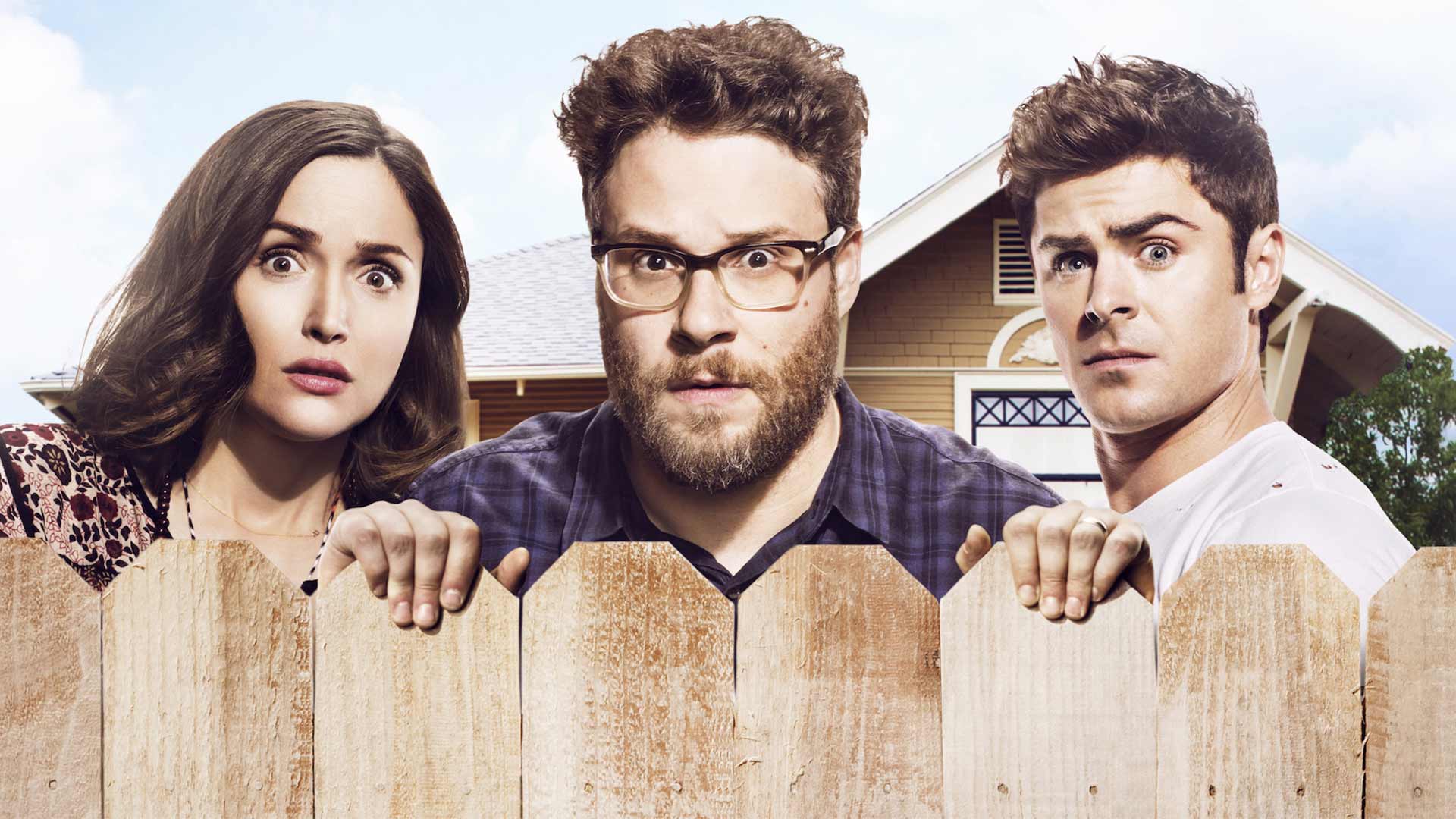 Plot: Mac Radner (Seth Rogen) and his Australian wife Kelly (Rose Byrne) are a young couple with an infant daughter, Stella. The restrictions of parenthood make it difficult for them to maintain their old lifestyle, which alienates them from their friends Jimmy Blevins (Ike Barinholtz) and his ex-wife, Paula (Carla Gallo). One day, the couple finds out that Delta Psi Beta, a fraternity known for their outrageous parties, has moved into an adjacent house. The fraternity's leaders, Teddy Sanders (Zac Efron) and Pete Regazolli (Dave Franco), aspire to join Delta Psi's Hall of Fame by throwing a massive end-of-the-year party.
38. Step Brothers (2008)
Plot: Brennan Huff and Dale Doback are immature adults still living at home. Brennan lives with his divorced mother, Nancy, and Dale lives with his widowed father, Robert. Robert and Nancy meet, fall in love, and get married, forcing Brennan and Dale to live with each other as step brothers.
39. Horrible Bosses (2011)
Plot: Nick Hendricks and Dale Arbus are friends who despise their bosses. Nick works at a financial firm for the sadistic David Harken, who implies the possibility of a promotion for Nick for months, only to award it to himself. Dale is a dental assistant being sexually harassed by his boss, Dr. Julia Harris; she threatens to tell his fiancée Stacy that he had sex with her unless he actually has sex with her. Nick and Dale's accountant friend Kurt Buckman enjoys working for Jack Pellitt at a chemical company, but after Jack unexpectedly dies of a heart attack, the company is taken over by Jack's cocaine-addicted son Bobby, whose apathy and incompetence threaten the future of the company.
40. Bridesmaids (2011)
Plot: Annie Walker is a single woman in her mid thirties. Following the failure of her bakery due to the recession, her boyfriend left her, and she lost her savings, forcing her to take a job as a sales clerk in a jewelry store and share an apartment with an obnoxious English immigrant roommate Gil and his sister Brynn. Her business failure was so painful that she has given up baking entirely. Annie has a no-strings-attached sexual relationship with the self-absorbed Ted, but she hopes for something more from him. Her best friend, Lillian, is virtually her only source of happiness.
See the IMDB rating