A good horror movie can give you so much thrilling and exciting experience. And if you are bored then horror movies are the best. Some say people who don't fear horror movies can feel superior to those who feel scared, well I am the superior one.
Best Horror Movies
If you are a fan of horror movies then these movies are just for you. Enjoy…
1. The Exorcist (1973)
Plot: In 1973, Lankester Merrin is a veteran Catholic priest and exorcist who is shown to be on an archaeological dig in the ancient city of Hatra in Iraq. There he finds an amulet that resembles the statue of Pazuzu, a demon of ancient origins with whose history Merrin is familiar.
2. Thirst (2009)
Plot: Sang-hyun (Song Kang-ho) is a Catholic priest who volunteers at the hospital, providing ministry to the patients. He is well respected for his unwavering faith and dedicated service, but he secretly suffers from feelings of doubt and sadness. Sang-hyun volunteers to participate in an experiment to find a vaccine for the deadly Emmanuel Virus (EV). Although the experiment fails, and Sang-hyun is infected with the seemingly fatal disease, he makes a complete and rapid recovery after receiving a blood transfusion.
3. Train to Busan (2016)
Plot: Seok-woo is a fund manager, workaholic, and divorced single father to his young daughter, Soo-an. For her birthday, she asks him to take her to Busan to see her mother. His work makes him hesitant but his mind is changed when his mother gives him a video of Soo-an's solo recital of "Aloha ʻOe"; his daughter did not complete her performance, knowing he was not present. On the way to the station, they encounter a speeding convoy of fire trucks, ambulances and police cars, and pass by a burning building. They board the KTX in Seoul. Others on the same train include tough, surly working-class husband Sang-hwa and his pregnant wife Sung-kyung; a high school baseball team; rich and selfish COO Yon-suk; elderly sisters In-gil and Jong-gil; and a traumatized homeless man who has witnessed a zombie attack.
4. The Conjuring (2013)
Plot: In 1971, Roger and Carolyn Perron move into a dilapidated farmhouse in Harrisville, Rhode Island with their five daughters Andrea, Nancy, Christine, Cindy, and April. Their dog Sadie refuses to enter the house and one of the children, while playing a game of "hide and clap", finds a boarded-up entrance to a cellar.
5. Get Out (2017)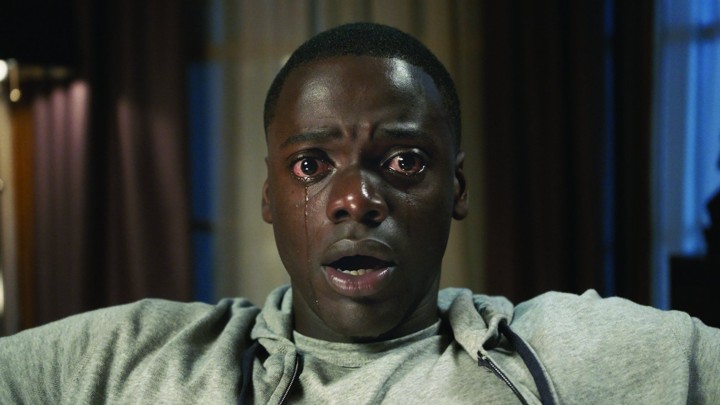 Plot: Photographer Chris Washington reluctantly agrees to meet the parents of his white girlfriend Rose Armitage, unsure of a warm reception. During their drive towards the family's isolated countryside estate, they hit a deer and stop the car. After calling the police to report the incident, a white policeman seemingly profiles Chris. Rose intervenes and the encounter goes unrecorded.
6. The Others (2001)
Plot: In the immediate aftermath of World War II, Grace Stewart, a devout Roman Catholic mother, lives with her two young children, Anne and Nicholas, in a remote country house in the Channel Islands. The children have an uncommon disease characterized by photosensitivity, so the curtains are closed to protect them from inadvertent exposure to sunlight. Grace hires three new servants—the aging Mrs. Bertha Mills, elderly gardener Edmund Tuttle, and a mute girl named Lydia. Mills explains that she had previously worked in the house many years ago. Grace claims that her last servants left abruptly. Anne tells Mills that 'mummy went mad' after the previous servants left. Nicholas disagrees and argues that 'nothing happened'. Grace explains to Mills that she does not believe in ghosts and requests Mills not to trust everything that the children say.
7. Shutter (2004)
Plot: After celebrating at a drinking party with his close friends, Tun (Ananda Everingham), a photographer, and his girlfriend Jane (Natthaweeranuch Thongmee), get into a car accident. Jane hits a young woman. With much fear, Tun prohibits her from getting out of the car: they drive away, leaving the girl lying on the road.
8. The Orphanage (2007)
Plot: In 1975 Spain, a young girl named Laura is adopted. Years later, adult Laura (Belén Rueda) returns to the closed orphanage, accompanied by her husband, Carlos (Fernando Cayo), and their seven-year-old son, Simón (Roger Príncep). She plans to reopen the orphanage as a facility for disabled children. Simón claims to have befriended a boy named Tomás, and draws pictures of him as a child wearing a sack mask. Social worker Benigna Escobedo (Montserrat Carulla) visits the house to inquire after Simón, and the audience learn that Laura and Carlos adopted Simón and that he is HIV positive. Incensed at Benigna's intrusion, Laura asks her to leave. Later that night Laura finds Benigna in the orphanage's coal shed, but Benigna flees the scene. Later, Simón teaches Laura a game which grants its winner a wish. Clues lead the two to Simón's adoption file. Simón becomes angry, and says that his new friend told him that Laura is not his biological mother and that he is going to die soon.
9. Sinister (2012)
Plot: The film opens with Super 8 footage depicting a family of four standing beneath a tree with sacks over their heads and nooses around their necks. An unseen figure pulls at a rope attached to a partially sawed-through branch of the tree, causing their deaths by hanging.
10. Martyrs (2008)
Plot: In 1971, a young girl, Lucie Jurin, escapes from a disused abattoir where she has been imprisoned and physically abused for a long time. The perpetrators and their motivations remain a mystery. Lucie is placed in an orphanage, where she is befriended by a young girl named Anna Assaoui, who recently discovers that Lucie believes that she is constantly being terrorized by a ghoulish creature; a disfigured emaciated banshee. Even so, Anna comforts Lucie every time she had a nightmare.
11. The Ring (2002)
Plot: Teenagers Katie and Becca discuss a legend about a cursed videotape; whoever watches it dies seven days later. Katie confesses that she watched the tape with her friends the previous week. That night, Katie is killed by an unseen force.
12. A Tale of Two Sisters (2003)
Plot: A teenage girl, Su-mi (Im Soo-jung), is being treated for shock and psychosis in a mental institution. She is released and returns home to her family's secluded estate in the countryside with her father (Kim Kap-soo) and younger sister Su-yeon (Moon Geun-young), whom she is protective over. The sisters have a cold reunion with their stepmother, Eun-joo (Yum Jung-ah).
13. The Cabin in the Woods (2012)
Plot: In a high tech underground facility, controllers Sitterson and Hadley discuss plans for a mysterious operation. A similar operation undertaken by their counterparts in Stockholm has just ended in failure.
14. The Autopsy of Jane Doe (2016)
Plot: An unidentified corpse of a woman is found half-buried in the basement of a house where a bloody and bizarre homicide had occurred. One of the police officers concludes that there are no signs of forced entry and that the victims were trying to escape from the residence instead.
15. Insidious (2010)
Plot: Married couple Josh and Renai Lambert, their sons Dalton and Foster, and infant daughter Cali, have recently moved into a new home. One night, Dalton is drawn to the attic and frightened by something in the shadows. The next day, he falls into an inexplicable coma.
16. Final Destination (2000)
Plot: High school student Alex Browning (Devon Sawa) boards Volee Airlines Flight 180 with his classmates for a field trip to Paris, France. Before take-off, Alex has a premonition that the plane will explode in mid-air, killing everyone on board. When the events from his vision begin to repeat themselves in reality, he panics, and a fight breaks out, which leads to several passengers being left behind, including Clear Rivers (Ali Larter), Carter Horton (Kerr Smith), Billy Hitchcock (Seann William Scott), Valerie Lewton (Kristen Cloke), Terry Chaney (Amanda Detmer), and Tod Waggner (Chad Donella), who witness the plane explode moments later. Afterwards, the survivors begin to die one by one through a series of bizarre accidents, and Alex attempts to find a way to "cheat" Death's plan before it is too late. Six months later, Alex, Clear, and Carter travel to Paris to celebrate their survival, believing they have finally cheated Death; however, after Carter is crushed by a giant neon sign, they realize that Death's plan is still in action.
17. Orphan (2009)
Plot: Kate and John Coleman's marriage is strained after their third child, Jessica, was stillborn. The loss is particularly hard on Kate, who is also recovering from alcoholism. They decide to adopt a 9-year-old Russian girl, Esther, from the local orphanage, whom John meets while she is painting. While Kate and John's 5-year-old deaf-mute daughter Max embrace Esther almost immediately, their 12-year-old son Daniel is less welcoming and rude toward her.
18. The Haunting in Connecticut (2009)
Plot: In 1987, Sara Campbell (Virginia Madsen) is driving her son Matthew (Kyle Gallner) home from the hospital where he has been undergoing cancer treatments. Sara and her husband Peter (Martin Donovan), a recovering alcoholic, discuss finding a rental house closer to the hospital. On another hospital visit, Sara finds a man putting up a "For Rent" sign in front of a large house. The man is frustrated and offers her the first month free if she will rent it immediately.
19. The Amityville Horror (2005)
Plot: In 1974, Ronald DeFeo Jr. murdered his family at their house at 112 Ocean Avenue in Amityville, New York. He claimed that he was persuaded to kill them by voices he heard in the house.
20. The Girl Next Door (2007)
Plot: David Moran (William Atherton), a Wall Street player, witnesses a man hit and run by a car. He responds to the situation and tries to resuscitate the victim. That evening, he reflects on his past to the summer of 1958, when he meets his first teenage crush Meg Loughlin (Blythe Auffarth). Meg and her disabled sister Susan (Madeline Taylor) have lost their parents in a car accident and because of this, they are sent to live with their reclusive aunt, Ruth Chandler (Blanche Baker), and her sons, Willie, Ralphie, and Donny (Graham Patrick Martin, Austin Williams and Benjamin Ross Kaplan).
21. Mirrors (2008)
Plot: A security guard runs through a subway station until he enters a room he cannot escape and starts begging his reflection in a mirror for his life. His reflection uses a shard to slice into its own throat; the wound reflects upon the real security guard's body, killing him.
22. Rosemary's Baby (1968)
Plot: In 1965, Guy and Rosemary Woodhouse move into the Bramford apartment building in New York City. Their friend Hutch tries to dissuade them from taking the apartment, informing them of the Bramford's association with cannibalism and murder.
23. The Silence of the Lambs (1991)
Plot: FBI trainee Clarice Starling, is pulled from her training at the FBI Academy at Quantico, Virginia by Jack Crawford of the Bureau's Behavioral Science Unit. He assigns her to interview Hannibal Lecter, a former psychiatrist and incarcerated cannibalistic serial killer, whose insight might prove useful in the pursuit of a serial killer nicknamed "Buffalo Bill", who skins his female victims' corpses.
24. Evil Dead (2013)
Plot: David and his girlfriend Natalie arrive at a cabin in the woods, where the pair meet up with his younger sister Mia and his friends Eric and Olivia. The group plans to stay in the cabin while Mia overcomes her addiction to heroin. The group discover the cellar, littered with rotting animal corpses, a shotgun, and a book called the Naturom Demonto.
25. The Eye (2002)
Plot: Blind since the age of two, 20-year-old Hong Kong classical violinist Mun undergoes an eye cornea transplant after receiving a pair of new eyes from a donor. Initially, she is glad to have her sense of sight restored but becomes troubled when she starts seeing mysterious figures that seem to foretell gruesome deaths. The night before her discharge from hospital, she sees a shadowy figure accompanying a patient out of the room and the next morning the patient is pronounced dead.
26. Hostel (2005)
Plot: College students Paxton and Josh are travelling across Europe with their Icelandic friend Óli. In Amsterdam, they get kicked out of a nightclub for fighting and visit prostitutes in a brothel. After they return to their hostel, they realise there's a curfew and are locked out. A man in a nearby apartment, Alexei, invites them to stay at his place that night. He convinces them to visit a hostel in Slovakia filled with desperate, beautiful women.
27. 1408 (2007)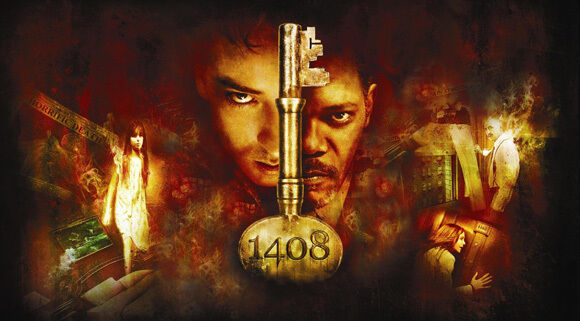 Plot: Mike Enslin is a cynical, skeptical author who is estranged from his wife Lily after the death of their daughter Katie. Mike writes unsuccessful books evaluating supernatural events in which he has no belief. After his latest book, he receives an anonymous postcard depicting The Dolphin, a hotel on Lexington Avenue in New York City bearing the message, "Don't enter 1408." Viewing this as a challenge, Mike arrives at The Dolphin and specifically requests to book room 1408.
28. The Exorcism of Emily Rose (2005)
Plot: Emily Rose, a 19-year old American teenager, dies of self-inflicted wounds and malnutrition following an attempted exorcism. Father Richard Moore, the Catholic diocesan priest who attempted the exorcism is arrested and sent to court. While the archdiocese want Moore to plead guilty to minimize the crime's public attention, Moore instead plans to plead not guilty. Erin Bruner, an ambitious lawyer hoping to use the trial to become a senior partner in her law firm, takes on the case. Moore agrees to let her defend him if he can tell the truth behind Emily's story.
29. Oculus (2013)
Plot: The film takes place in two different times: the present and 11 years earlier. The two plot lines are told in parallel through flashbacks. In 2002, software engineer Alan Russell moves into a new house with his wife Marie, 10-year-old son Tim, and 12-year-old daughter Kaylie. Alan purchases an antique mirror to decorate his office. Unbeknownst to them, the mirror supernaturally induces hallucinations. Marie is haunted by visions of her own body decaying, while Alan is seduced by a ghostly woman named Marisol, who has mirrors in place of eyes.
30. The Grudge (2004)
Plot: The Grudge describes a curse that is born when someone dies in the grip of a powerful rage or extreme sorrow. The curse is an entity created where the person died. Those who encounter this supernatural force die, and the curse is reborn repeatedly, passed from victim to victim in an endless, growing chain of horror. The following events are explained in their actual order; the original film is presented in a nonlinear narrative.
See the IMDB rating