Korean movies make you feel like you behaves the same if you were in the same situation. At the same time they are funny, thrilling, romantic so you are getting all of the feeling at the same time. I personally think when you are watching the korean movies it gets under your skin and you feel them. But to tell you the truth I love korean movies because of the cute actors.
Favorite Korean Movies
Feel all the emotion in just one movie
1. Baby and Me (2008)
Plot: A high school student, Han Joon-soo, is a troublemaker. He always quarrels with his parents and does not obey them. One day his parents are sick of his bad behavior and run away from home, leaving only a videotape and $100, stating they would come back when Joon-soo got his act together. Shrugging it off, he decides to just throw a small party with his friends, Ki-seok and Choon-seung, in his empty house. While buying alcohol at a grocery store, a baby with a note is left in his cart. The note claims the high school senior, Han Joon-soo, is the father of the baby and the mother could not take care of him anymore.
2. Always (2011)
Plot: Having closed himself away from the world, former boxer Cheol Min starts a new part-time job as a parking lot attendant. One night, He is sitting in the tiny pay booth in the parking lot and staring at the small television when a young woman, Jung Hwa, walks into the tollbooth. She offers something to Cheol-min and sits next to him. Cheol-min realizes the woman is blind and she is confusing him for the parking attendant who worked there previously. Their lives change forever from this point.
3. My Sassy Girl (2001)
Plot: Gyeon-woo just cannot seem to catch a romantic break. One day, at dinner and drinks with his college friends, Gyeon-woo is interrupted by a call from his mother, telling him to visit his aunt and meet a potential date. At the train station on his way to his aunt's, he observes a drunk girl, standing precariously close to the edge of the train platform as the train approaches; he pulls her to safety just in time. Inside the train, Gyeon-woo cannot help but stare at the girl who is his "type" but repulsed by her drunkenness. Finally, she throws up on a passenger and faints but not before she calls Gyeon-woo "honey".
4. Okja (2017)
Plot: In 2007, Lucy Mirando becomes CEO of the Mirando Corporation, succeeding her controversial grandfather, her father and her cruel twin sister Nancy. She announces that they have been breeding a special kind of superpig. Twenty-six of the best pigs will be sent to locations around the world, and ten years later, one will be crowned the winner.
5. Train to Busan (2016)
Plot: Seok-woo is a fund manager, workaholic, and divorced single father to his young daughter, Soo-an. For her birthday, she asks him to take her to Busan to see her mother. His work makes him hesitant but his mind is changed when his mother gives him a video of Soo-an's solo recital of "Aloha ʻOe"; his daughter did not complete her performance, knowing he was not present. On the way to the station, they encounter a speeding convoy of fire trucks, ambulances and police cars, and pass by a burning building. They board the KTX in Seoul. Others on the same train include tough, surly working-class husband Sang-hwa and his pregnant wife Sung-kyung; a high school baseball team; rich and selfish COO Yon-suk; elderly sisters In-gil and Jong-gil; and a traumatized homeless man who has witnessed a zombie attack.
6. Spellbound (2011)
Plot: Jo-goo, a street magician (Lee Min-ki), notices a miserable looking girl, Yeo-ri (Son Ye-jin), in the audience during one of his performances, and she winds up being the inspiration for his "Horror magic show." The show becomes a runaway success almost overnight and Jo-goo in turn, is now a successful stage magician with a model girlfriend. Yeo-ri works for Jo-goo, playing the specter in his show. Forward to almost a year later, the darkness inside her, something her colleagues sense, keeps her from truly connecting with them. When Jo-goo's attempts to include Yeo-ri in a staff dinner finally succeeds, hilarious disaster ensues when she ends up blindingly drunk. Jo-goo calls Yeo-ri the next morning to sort things out, but when the phone disconnects with a weird sound, he decides to drop by her place for a visit instead. There, Jo-goo meets and engages in a game of hide-and-seek with a ghost child, which then scares the bejesus out of him later that night. As the two of them spend more time together, developing a fast friendship, Yeo-ri confesses the long story behind her gray, wan face.
7. Thirst (2009)
Plot: Sang-hyun is a Catholic priest who volunteers at the hospital, providing ministry to the patients. He is well respected for his unwavering faith and dedicated service, but he secretly suffers from feelings of doubt and sadness. Sang-hyun volunteers to participate in an experiment to find a vaccine for the deadly Emmanuel Virus (EV). Although the experiment fails, and Sang-hyun is infected with the seemingly fatal disease, he makes a complete and rapid recovery after receiving a blood transfusion.
8. Jenny, Juno (2005)
Plot: The plot centers around the relationship of a 15-year-old couple, Jenny and Juno, who meet in school. Jenny is a smart, bright and pretty girl. Juno is cute, cool and good at sports, and just got transferred from another school. When Jenny discovers that she is pregnant, she and Juno decide against having an abortion, opting for parenthood instead.
9. Wonderful Nightmare(2015)
Plot: Yeon-woo is a successful lawyer who is killed in an automobile accident. She wakes in heaven to find that her death was a clerical error and it was actually an old woman with the same name who was meant to die.
10. The Man from Nowhere (2010)
Plot: Cha Tae-sik leads a quiet life running a pawnshop. His only friend is a little girl, So-mi, who lives next door. So-mi's mother, Hyo-jeong, is a heroin addict who steals drugs from a feared Korean-Vietnamese organized crime group. She pawns her camera bag to Tae-sik; he does not realize it has the stolen drugs inside. Crime lord Oh Myung-gyu sends his subordinates, brothers Man-Seok and Jong-seok to retrieve the drugs; Jong-seok and his henchman Lum Ramrowan torture Hyo-jeong to find the drugs' location, then kidnap her and So-mi. Two gangsters, Du-chi and "Bear" go to Tae-sik's pawn shop, but Tae-sik easily overpowers them. When he finds that Hyo-jeong and So-mi have been kidnapped, he gives them the bag, and Ramrowan kills Bear to set him up as the fall guy.
11. Speed Scandal (2008)
Plot: Former teen idol Nam Hyeon-soo (Cha Tae-hyun) is now in his thirties and works as a radio DJ. A young woman named Hwang Jeong-nam sends stories about her life as a single mother to the radio station Hyeon-soo works at, telling him she is going to meet her father. He then finds out that he's her father when she shows up at his apartment with her son Ki-dong.
12. 200 Pounds Beauty (2006)
Plot: Hanna Kang is an overweight phone sex part-timer and a ghost singer for Ammy, a famous pop singer who actually lip syncs instead of being famous for her own vocal talent. Other than that, Hanna has a huge crush for Sang-jun who's a director and whose arrogant father owns the entertainment company. One day, Ammy purposely insults Hanna's weight in front of Sang-jun during his birthday party, knowing well that Hanna likes him. While crying in the restroom, Hanna overhears Sang-jun telling Ammy that even though they are just using Hanna for her voice, they must be kind to her so she will not walk out on them. Heartbroken, Hanna attempts suicide but is interrupted by a phone call from one of her phone sex regulars who is a top plastic surgeon. She persuades him to perform a head-to-toe plastic surgery operation on her. Hanna puts herself in seclusion for a year as she recovers from the changes from the surgery and weight loss.
13. The Beauty Inside (2015)
Plot: Furniture designer Woo-jin wakes up in a different body every day, regardless of age, gender and nationality. Sometimes he's a man, a woman, old, young, or even a foreigner. He's the same person on the inside, but on the outside he's always someone new. Looking at a different face in the mirror every morning is hard for him to get used to. The only constant in his life is the girl he loves, Yi-soo, who knows his secret and loves him anyway. Each time he transforms, Woo-jin must figure out how to reunite with Yi-soo.
14. The Handmaiden (2016)
Plot: In Japanese-occupied Korea, a conman operating under the sobriquet of "Count Fujiwara" hires a pickpocket named Sook-hee from a family of con artists to become the maid of the mysterious Japanese heiress Lady Hideko, whom Fujiwara plans to marry and to commit to an asylum in order to steal her inheritance. Sook-hee, taking on the name "Tamako", enters Hideko's household, which is controlled by her authoritarian Uncle Kouzuki.
15. Hello Ghost (2010)
Plot: Sang-man attempts to commit suicide by overdosing on pills, but fails. He then attempts to kill himself by jumping off a bridge and into a river, but is saved. Brought to the hospital, Sang-man awakens and sees a man smoking next to him. He tells the other hospital patrons, but no one believes him. During his stay in the hospital he eventually meets four ghosts. Meanwhile, Sang-man meets nurse Jung Yun-soo at the hospital and quickly falls in love.
16. The Thieves (2012)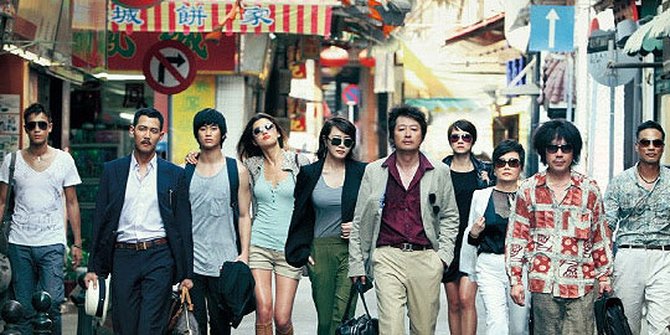 Plot: A cat burglar named Yenicall (Jun Ji-hyun) seduces the owner of Leesung Gallery (Shin Ha-kyun), and steals a rare artifact with the help of three other criminals: Popeye (Lee Jung-jae), the leader, Zampano (Kim Soo-hyun), the assistant, and Chewing Gum (Kim Hae-sook), a middle-aged conwoman. They are visited by a detective (Ju Jin-mo) shortly after, and realize that staying in Korea is too dangerous. They decide to join a heist led by a master thief named Macau Park (Kim Yoon-seok), a Korean based in Macau who is also Popeye's former boss. Popeye brings along Pepsi (Kim Hye-soo), a convicted safe-cracker who was recently released on parole. In Hong Kong, Chen (Simon Yam), Jonny (Derek Tsang) and Andrew (Oh Dal-su) are contacted by Macau Park and agree to enroll as the Chinese part of the team, along with a safe-cracker named Julie (Angelica Lee).
17. Confession of Murder (2012)
Plot: Choi Hyeong-goo (Jung Jae-young) is a detective who was in charge of hunting down a serial killer who claimed the lives of 10 women from 1986 to 1990, and whom Choi suspects is responsible for the kidnapping and possible murder of another. He managed to hunt down the killer, but lost him after a fierce fight that left Choi nearly dead and permanently scarred. Before the killer vanished however, Choi managed to shoot him in the shoulder.
18. Sympathy for Mr. Vengeance (2002)
Plot: Ryu is a deaf-mute man working in a factory. His ailing sister is in desperate need of a kidney transplant, but Ryu's is not a match. After he loses his job, Ryu contacts a black market organ dealer to exchange one of his kidneys for one his sister can use. However, the dealers disappear after taking Ryu's kidney and money.
19. The Chaser (2008)
Plot: Eom Joong-ho is a dishonest ex-detective turned pimp who is in financial trouble because two of his girls have gone missing. One night he sends Mi-jin, one of his few remaining girls, to a customer. He then realizes that this is the same person who was the last to see his missing girls. Believing that this man is reselling his women, he goes to look for Mi-jin, contacting his old police task force for help. But they cannot assist because the mayor of Seoul, whom they are guarding, has just been attacked with feces. The police are now preoccupied with a media storm because they have suffered humiliation for failing to protect the mayor.
20. Twenty (2015)
Plot: Chi-ho, Kyung-jae and Dong-woo are best friends who've just graduated from high school and turned 20. Chi-ho is an unemployed player living in the moment and whose number one priority is dating and chasing women. Kyung-jae is a goody-two-shoes university student whose goal is to get accepted at a corporate job; he's extremely shy around girls, but completely transforms when he gets drunk. And happy-go-lucky Dong-woo dreams of becoming a cartoonist, but when his family goes bankrupt, he's forced to become the breadwinner and take on several part-time jobs.
Have you seen them yet?? If you haven't then don't be late…