I guess when you start to watch drama it becomes kind of hobby like playing video games. Sometimes people just watch drama and try to be cool because its kind of become trend to watch a lot of drama or you can just watch when you are bored. Oh and you can talk with people easily, just ask hey did you watch the last episode and could you guess what's gonna happen next?
---
Waste your time and enjoy 😛
1. Mr. Bean (1990-1995)
Plot: Mr. Bean is a childish buffoon who brings various unusual schemes and contrivances to everyday tasks. He lives alone at the address of Flat 2, 12 Arbor Road, Highbury, and is almost always seen in his trademark tweed jacket and a skinny red tie. He also usually wears a digital calculator watch. Mr. Bean rarely speaks, and when he does, it is generally only a few mumbled words which are in a comically low-pitched voice. Mr. Bean often seems unaware of basic aspects of the way the world works, and the program usually features his attempts at what would normally be considered simple activities, such as going swimming, using a television set, interior decorating, or going to church. The humor largely comes from his original (and often absurd) solutions to problems and his total disregard for others when solving them, his pettiness, and occasional malevolence.
"Best Show Ever"
2. Sherlock (2010-2017)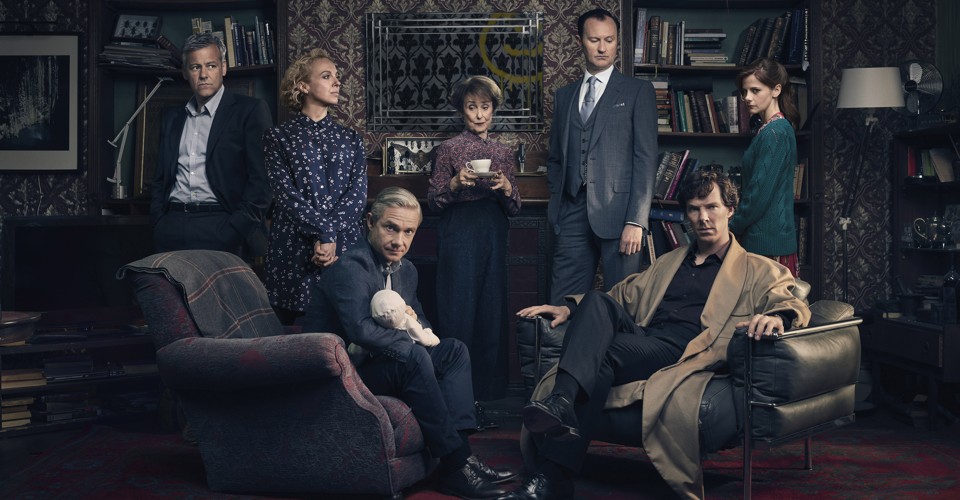 Plot: Sherlock, a consulting detective solving various mysteries in modern-day London. He is assisted by his flatmate and friend, Dr John Watson, who has returned from military service in Afghanistan with the Royal Army Medical Corps. Although Metropolitan Police Service Detective Inspector Greg Lestrade and others are at first suspicious of his, over time his exceptional intellect and bold powers of observation persuade them of his value. In part through Watson's blog documenting their adventures, Holmes becomes a reluctant celebrity with the press reporting on his cases and eccentric personal life. Both ordinary people and the British government ask for his help. His conflict with nemesis Jim Moriarty is a recurring feature. Molly Hooper, a pathologist at St. Bart's Hospital, occasionally assists him in his cases. Other recurring roles include Mrs Hudson, Sherlock's and Watson's landlady, Sherlocks' elder brother Mycroft.
"Finished with no brake and eagerly waiting for the next season. Please someone tell me when's the next season gonna come?"
3. Monk (2002–2009)
Plot: Adrian Monk was a detective for the San Francisco Police Department until his wife, Trudy, was killed by a car bomb in a parking garage. He believes that Trudy's death was part of a larger conspiracy that she had uncovered during her time as a journalist. Trudy's death led Monk to suffer a nervous breakdown. He was then discharged from the force and became a recluse, refusing to leave his house for three and a half years. Until the final episode, Trudy's death was Monk's only unsolved case.
"Mystery solving is always fun to see in this drama"
4. Stranger Things (2016-)
Plot: The fictional rural town of Hawkins, Indiana, during the early 1980s. The nearby Hawkins National Laboratory ostensibly performs scientific research for the United States Department of Energy, but secretly does experiments into the paranormal and supernatural, including those that involve human test subjects. Inadvertently, they have created a portal to an alternate dimension called "the Upside Down". The influence of the Upside Down starts to affect the unknowing residents of Hawkins in calamitous ways.
"When's the next season gonna come? I am getting mad for next season to see."
5. Friends (1994-2004)
Plot: The friends' comedic and romantic adventures and career issues, such as Joey auditioning for roles or Rachel seeking jobs in the fashion industry. The six characters each have many dates and serious relationships, such as Monica with Richard Burke and Ross with Emily Waltham. Ross and Rachel's intermittent relationship is the most often-recurring storyline; during the ten seasons of the show they repeatedly date and break up, even while Ross briefly marries Emily, he and Rachel have a child, Chandler and Monica date and marry each other, and Phoebe marries Mike Hannigan.
"Finished all season with no break and still wish if I can have friends like them."
6. Rooftop Prince (2012)
Plot: Tae-mu, after killing his lost cousin in the United States, returns to Korea, claiming that his cousin, Tae-yong, could not be found in New York City. Meanwhile, Tae-mu has been having an affair with Se-na, his secretary, who, in turn, runs into her long-lost stepsister Park-ha whom she knowingly abandoned in a truck driving away when she was nine. Suddenly four men dressed in Joseon era garments, fall onto Park-ha's rooftop house. Their leader, Lee-gak claims to be the Crown Prince of Joseon, along with his entourage scholar Song Man-bo, personal bodyguard Woo Yong-sool, and palace eunuch Do Chi-san. One day, Crown Prince Lee Gak sees Se-na who is the spitting image of his beloved wife, who was found drowned in the 18th century. He is convinced she is his wife's reincarnation. Meanwhile, company president Yeo mistakes Lee Gak for her grandson – Yong Tae-yong, because of their exact same appearance, and believes that her long lost grandson has finally returned. Lee Gak realizes that he has time traveled 300 years to 2012, Seoul, to search for the truth behind the mysterious death of the late Crown Princess. In order to approach Se-na, Lee Gak pretends that he is Tae-yong. Tae-mu has always been jealous of Tae-yong's favored position in the family. Park-ha is shocked by the news that her new friend who calls himself the Crown Prince is, in fact, the grandson of the CEO and for her feelings about Lee Gak, she is hurt when she finds out that Lee Gak, is courting Se-na. Lee Gak also believes that marrying Se-na in Seoul in the year 2012 would bring him closer to solving the mystery of the Crown Princess' murder in the Joseon era.
"First Korean drama and I think I will never see any more drama, I mean this drama gets into your head and you can't think of anything until the drama ends."
7. The Odd Couple (2015-2017)
Plot: Felix, a neat-freak news writer and photographer, is kicked out by Ashley after twenty years of marriage and moves in with Oscar, now a sports talk show host, whose ex-wife Gaby has left him because he was a thoughtless slob.
"Never get bored by watching same episodes again and again."
8. 2 Broke Girls (2011-)
Plot: Two waitresses in their mid-20s, Max Black, the child of a poor working-class mother and an unknown father, and Caroline Channing, who was born rich but is now disgraced and penniless because her father scandal. The two work together at a Brooklyn diner, soon becoming roommates and friends while building toward their dream of one day opening a cupcake shop. Among those working with them at the restaurant are their boss, Han Lee; Oleg, an upbeat but perverted Ukrainian cook; Earl, a 75-year-old cashier and the neighbor or part-time boss Sophie, a Polish immigrant who runs the house-cleaning company Sophie's Choice.
"Still watch and sometimes the same episodes again and again."
9. The X-Files (1993-)
Plot: The show is about the careers and personal lives of FBI Special Agents Fox Mulder and Dana Scully. Mulder is a talented profiler and strong believer in the supernatural. He is also adamant about the existence of intelligent extraterrestrial life and its presence on Earth. This set of beliefs earns him the nickname "Spooky Mulder" and an assignment to a little-known department that deals with unsolved cases, known as the X-Files. His belief in the paranormal springs from the claimed abduction of his sister Samantha Mulder by extraterrestrials when Mulder was 12. Agent Scully is a foil for Mulder in this regard. As a medical doctor and natural skeptic, Scully approaches cases with complete detachment even when Mulder, despite his considerable training, loses his objectivity. She is partnered with Mulder initially so that she can debunk Mulder's nonconforming theories, often supplying logical, scientific explanations for the cases' apparently unexplainable phenomena.
"Still some episodes are left."
10. Constantine (2014-2015)
Plot: John Constantine, a demon hunter and dabbling master of the occult, must struggle with his past sins while protecting the innocent from the converging supernatural threats that constantly break through to our world due to the "Rising Darkness". Balancing his actions upon the line of good and evil, Constantine uses his skills and a supernatural scary map to journey across the nation to send these terrors back to their own world, all for the hope of redeeming his soul from eternal torment.
"Always liked supernatural TV shows and finish the season happily."
11. American Horror Story (2011-)
Plot: An anthology series centering on different characters and locations, including a house with a murderous past, an insane asylum, a witch coven, a freak show, a hotel, a possessed farmhouse, and a cult.
"Only the last season left so maybe will watch soon."
12. Modern Family (2009-)
Plot: Three different types of families are living in the Los Angeles area who are interrelated through Jay Pritchett and his children, Claire and Mitchell. Jay is remarried to a much younger woman, Gloria, a passionate Colombian with whom he has an infant son, Joe, and a son from Gloria's previous marriage, Manny. Jay's daughter Claire was a homemaker, but has returned to the business world. She is now chief executive of her father's previous business, 'Pritchett's Closets and Blinds'. She is married to Phil, a realtor and self-professed "cool Dad". They have three children: Haley, a stereotypical ditzy teenage girl; Alex, a nerdy, smart middle child; and Luke, the off-beat only son. Jay's lawyer son Mitchell and his husband Cameron Tucker have an adopted Vietnamese daughter, Lily. As the name suggests, this family represents a modern family.
"Recently I started to watching and I forgot actually how funny it is and I was missing it"
13. Mom (2013-)
Plot: Christy Plunkett, a single mother who, after dealing with her battle with alcoholism and drug abuse, decides to restart her life in Napa, California, working as a waitress and attending Alcoholics Anonymous meetings. Her mother Bonnie Plunkett is also a recovering addict. Christy's daughter, Violet, who was born when Christy was 17, has also become a teen mother. Christy also has a young son, Roscoe.
"Never got boring & always waiting for next season."
14. Hannibal (2013-2015)
Plot: FBI profiler Will Graham is recruited by Jack Crawford, the head of Behavioral Sciences, to help investigate a serial killer in Minnesota. With the investigation weighing heavily on Graham, Crawford decides to have him supervised by forensic psychiatrist Dr. Hannibal Lecter. Initially, Lecter – who is secretly a cannibalistic serial killer – works to manipulate the FBI from within, but the bonds he builds with Graham begin to threaten his longevity. Lecter is fascinated by Graham's ability to empathize with psychopathic murderers, and tries to push the boundaries of Graham's fragile sanity in order to turn him into a killer himself.
"After season 2 it became too much creative to handle."
15. How to Get Away with Murder (2014-)
Plot: A group of ambitious law students and their brilliant criminal defense professor become involved in a twisted murder plot that promises to change the course of their lives.
" Finished 2 season and paused for some time but will start soon I guess."
See the IMDB rating
So, what do you think are these good shows?